I was just informed Lynn Johnston's aunt Unity died at the age of 101. I am going to give the links to articles talking about her and then drop a few notes about her after the cut



http://www.nsnews.com/entertainment/dossier/artist-leaves-legacy-of-painting-from-real-life-1.23123558


Unity Bainbridge couldn't wait to get out of San Francisco and return to B.C.
An artist of her talent and prestige might have relished the cosmopolitan Californian city, but not Bainbridge. Her artistic allegiance remained firmly rooted in British Columbia her entire life, despite her brief five-year sojourn to San Francisco after getting married in 1946.
Bainbridge was born in Victoria, B.C. in 1916. Ryan says her mother knew from a young age that capturing B.C. history through art would be her lifelong calling, and despite her resistance to having her work marketed, her paintings can be found in the collections of the Vancouver Art Gallery, Buckingham Palace, London's Imperial War Museum, the Diefenbaker Museum, and other galleries across Canada.
She was awarded the Order of British Columbia in 1993. Ryan estimates that her mother produced upwards of 2,500 pieces during her lifetime.
But she could be a contemptuous critic of how her art was received, Ryan says.
"She would only sell her originals to people she approved of," she says. "She wanted people to have a connection with her paintings. It was not an investment. It was something you would love and care about."
She was awarded the Order of British Columbia in 1993. Ryan estimates that her mother produced upwards of 2,500 pieces during her lifetime.
She also talks about several illustrated books of poetry that Bainbridge put out decades ago based on her pilgrimages throughout B.C. Asked why Bainbridge felt the need to write as well as paint, Ryan says it was because she was an artist, above all else.
My comment: Putting this in perspective, Unity got married around the same time that her sister Ursula did. When Lynn was born, Unity was in San Francisco, but she didn't stay there. This is a little similar to how it was with Ursula who was taken to Ontario by Mervyn and then decided she wanted to live in Vancouver instead. There seems to be a little bit of history in the Bainbridge family of wives getting their husbands to move.

Noting that Unity also wrote in addition to painting, it tells me where Lynn may have gotten the idea that she should also be a writer. This next article is the best of the bunch:
https://www.theglobeandmail.com/arts/painter-unity-langford-bainbridge-brewster-was-a-piece-of-living-history/article37422863/
After Ms. Bainbridge's husband William (Bob) Brewster died in 1972, she never remarried, and she continued painting into her 90s.
"Her real passion was her art," says her daughter, who recalls growing up in mid-century West Vancouver slightly embarrassed by her bohemian mother's somewhat unconventional ways.
"Later, of course," she shares, "I discovered my friends all thought she was really cool." So, too, did rock stars Bryan Adams and Loverboy's Mike Reno, who discovered her work as collectors in the 1980s and 90s, and would send limos to collect her for their shows and invite her to their studios to attend recording sessions.
Born in Victoria in 1916 to Deborah (née Beverley) and George Phillip Bainbridge, Unity Langford Bainbridge had a talent for painting that was evident from a young age. (A surprisingly vivid portrait of her sister, painted at age 14, was part of the Ferry Building exhibition).
When Unity was 16, she announced to her father, a well known but somewhat conservative stamp collector, that she was going to attend the Vancouver School of Art. He warned that she would never be able to earn a living from art.
"He wanted me to be an ordinary woman," she told Mr. Carolan, "and I wanted to be a painter."
My comment: The overbearing and evil grandfather George, whom Lynn hated, appears to be a man who prefers his daughter to be ordinary, but hardly seems to try and stop her. Nevertheless, it is interesting that his career appears to be listed as "stamp collector." Talk about a career where you wouldn't think you could make a living. I think I would list artist as more employable than stamp collector.

Determined to attend the Vancouver School of Art (VSA), Unity would rise at dawn every day in her family home near Whytecliff in West Vancouver, take the bus to the ferry in Ambleside, and then another bus to what is now Vancouver's Downtown Eastside, arriving at the school before anyone else.
She carried her paints, brushes and easel in her backpack, a habit that would continue and inform her artistic sensibility, as she insisted on only painting her subjects on site. Once, on her way home from school trekking back to Whytecliff, she got a lift from Group of Seven painter Lawren Harris, who stopped and said, "You look like an artist. Need a ride?"
She spent her summers at the family cottage on Ambleside beach, where she began to paint local members of the Squamish Nation. With a charm and ease that would enable her to connect with subjects throughout her life, Ms. Bainbridge painted many First Nations women and children, and taught them how to paint. She also sketched Japanese workers' settlements near the old cannery in Fisherman's Cove.

My comment: The family cottage on Ambleside beach lets us know the the Bainbridges had money, as we have often suspected.
Her love of nature and particular affinity for trees shone through in her work, and infused this early environmentalist with a passion for preservation that saw her participate in protests later in life.
At the VSA, most of the portrait and figure course work was indoors and the teenage Unity worked side by side with artist Ed Hughes, often sitting for him.
With the influence of her teachers Charles Scott and Group of Seven member Fred Varley, her portraiture developed what Mr. Carolan notes as the "London Courtauld School style," embodying a "freshness and economy of expression" and was honed in a series of West End rooming houses where she kept winter studios, often painting passers-by.
While Unity admired the work of Emily Carr and occasionally caught glimpses of her bringing First Nation baskets back from the North Shore via rowboat, she never went to meet her.
As she related to Mr. Carolan, "I set off one day to see [Ms. Carr] in Victoria, but I met a fellow aboard the ferry. It was a slow boat, and that was that!" Ms. Bainbridge's daughter still has the sketch of the handsome young man who so distracted her mother.
Ms. Bainbridge's wanderlust got the better of her and she soon made her way to Toronto, where she won three prizes at the 1938 Royal Canadian Academy Exhibition and had her work shown along the Group of Seven. Setting out with very little money and her backpack full of art supplies, she would stay in rooming houses, often in the red light district, before earning commissions from the likes of the Van Horne family (of railway fame).
Between 1938 and 1945, Ms. Bainbridge had a one-woman show at the Vancouver Art Gallery, as well as an exhibition at the University of British Columbia gallery. She won wartime commissions to paint portraits of servicemen and servicewomen – two of which still hang in the West Vancouver Library, and she travelled extensively by boat, canoe, road, train and foot throughout southern B.C., painting what she saw.
After her 1946 marriage to American Bob Brewster, the couple lived in San Francisco until 1953, when they returned to West Vancouver. They raised their young daughter there in a minimalist post-and-beam house. From 1961 until 1974, Ms. Bainbridge specialized in portraits of First Nations people from near Lillooet, in the B.C. interior. (Shy Child of Nekiat, her 1962 portrait of a beautiful young girl, remains a striking example.)
She documented her work and travels in two self-published books: Songs of Seton(1974), and Lullaby of Lillooet (1977), which also included poems, travelogues and amateur ethnography.
In the following years, Ms. Bainbridge went on extensive walking tours of England, had exhibitions in Hamilton, Ont., and at the University Women's Club in Vancouver, and was awarded the Order of British Columbia in 1993.
Ron Burnett, the current president of Emily Carr University of Art and Design (of which the VSA was a progenitor), recalls that when he arrived at the school in 1996, Ms. Bainbridge was somewhat of a legend.
"Everyone said, 'You have to meet Unity,'" although he didn't manage that until the school's 75th anniversary celebration in 2000, when she appeared in a long, golden gown, and spoke to him of her student days.
My comment: It is not long after this when Katie will go to the same school. It's possible she was better known for her great aunt Unity than for her mother in this setting.

"It was very much a kind of master-student Bauhaus-style model then," Mr. Burnett explains, "with most of the teachers being male and most of the pupils female." Charles Scott would hold court in a white lab coat, he recalls Ms. Bainbridge telling him, like some godlike art doctor.
Not only did Ms. Bainbridge and Ms. Carr share an aesthetic kinship, they also both had the misfortune of being underappreciated during their lifetimes, Mr. Burnett says. "[Ms. Bainbridge] really should have been much more celebrated than she was," he notes.
Her daughter, Deborah, suggests that her mother's success might have been hampered by her "free spirit" and lack of interest in "playing the art game," as well as her refusal to sell work to people she deemed unworthy of appreciating it.
My comment: This statement directly contradicts Lynn's statement about Unity in The Comic Art of Lynn Johnston
Ms. Bainbridge was predeceased by her husband, Bob, and her sister Ursula Ridgeway. She leaves her daughter, Deb Ryan; sister Monica Reznick; grandchildren; great-grandchildren; nieces and nephews.
https://www.ecuad.ca/news/2017/unity-bainbridge-in-memoriam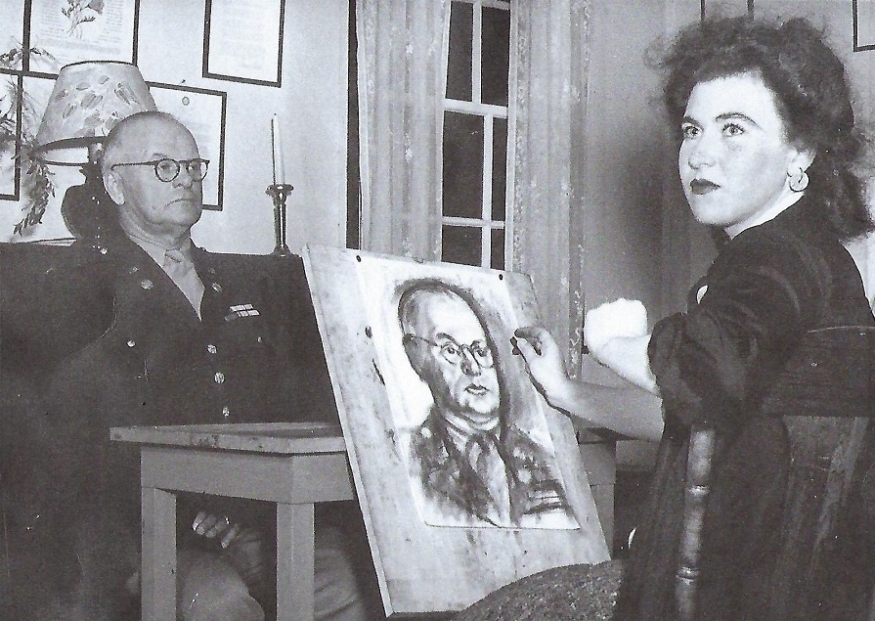 Unity (Bainbridge) Brewster, a long time resident of West Vancouver, passed peacefully in her sleep in the late hours November 30
th
2017. Unity was predeceased by her parents, George P. and Deborah Bainbridge, and her sister Ursula Ridgeway. Unity is survived by her daughter Deborah Ryan (Rick), granddaughters Lisa Denton (Caley), Cindy Devlin, grandchildren Isabelle and Emma Denton, Chase and Hudson Devlin. Also left to mourn are sister, Monica Resnick and many nieces and nephews.
Unity, an early pioneer Canadian artist, was born in Victoria BC on July 6
th
1916. Her talent was exhibited as a child and perfected as a student at the Vancouver School of Art (Emily Carr University) from which she graduated in 1936.
My comment: I notice no listing in the long list of relatives of Lynn Johnston, not that it would be appropriate. Nevertheless, it appears that Unity had a daughter, who had two grandaughters, and then 4 great grandchildren. Sister Monica Reznick is mentions (but her last name is misspelled as Resnick). You would not know any of this from Lynn's description of her Aunt Unity. In The Comic Art of Lynn Johnston, while Monica Reznick is listed with her married name, Unity Bainbridge is not. It is hard to tell what is going on here. The obituary was probably written by Unity's daughter, for whom her father would be important. However, a number of these articles refer to Unity only as Bainbridge matching Lynn's references to her.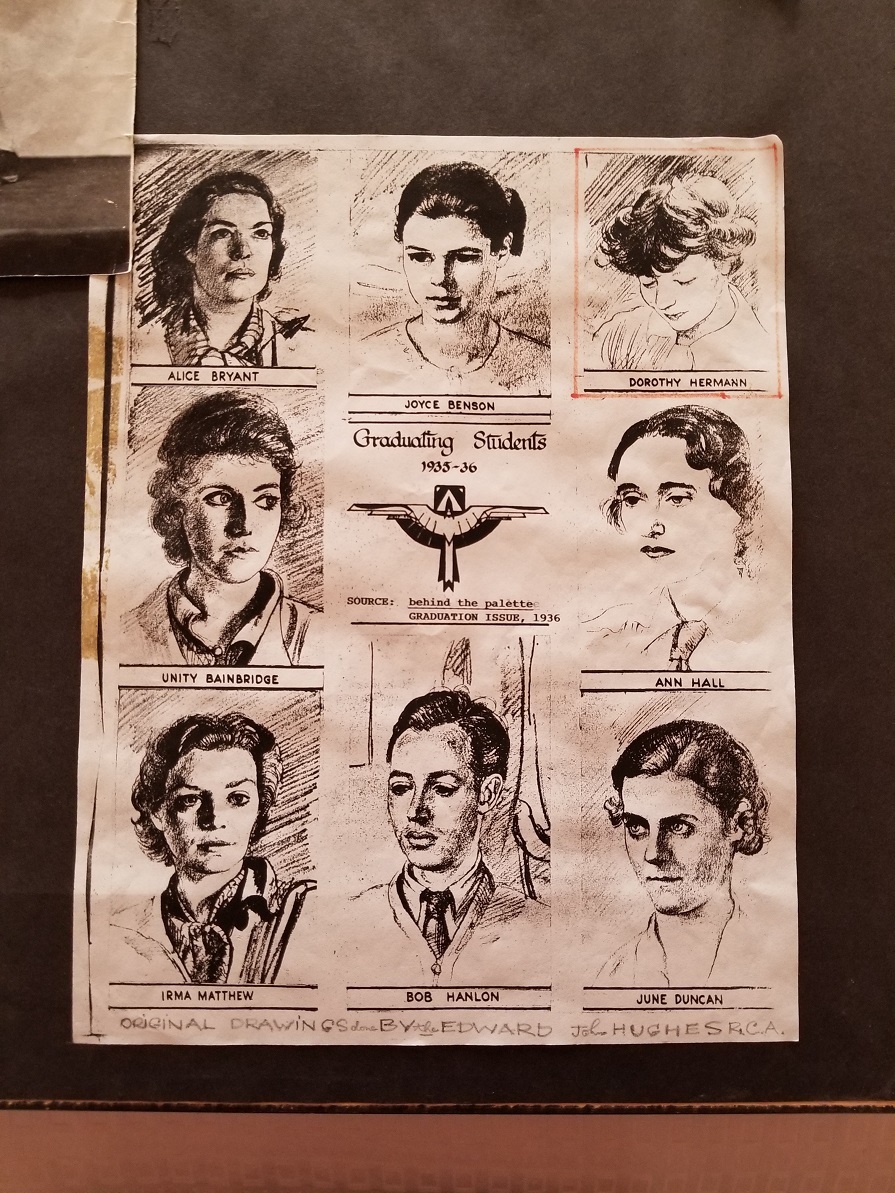 My comment: it looks like The Vancouver School of Art graduated mostly women in 1936.
http://orderofbc.gov.bc.ca/members/obc-1993/1993-unity-bainbridge/
My comment: When she got the Order of British Columbia, she is listed as Unity Bainbridge.



http://www.legacy.com/obituaries/vancouversun/obituary.aspx?n=unity-bainbridge-brewster&pid=187479767



BREWSTER, Unity Bainbridge




July 6, 1916 - November 30, 2017




Predeceased by her parents, Ursula Ridgeway, (sister) and husband Bob. Unity is survived by her daughter Deb Ryan (Rick) and sister Monica Reznick as well as grandchildren, great-grandchildren, nieces and nephews.



My comment: Another reference to husband Bob Brewster. Apparently he was enough of a part of Unity's life that she did not shun the name. However, when referring to Unity as an artist, the name Bainbridge seems to be used exclusively.


http://50svanartscene.blogspot.ca/2007/06/unity-bainbridge_25.html

Born in Victoria in 1916 and schooled in Vancouver and the Okanagan, Bainbridge decided upon an emancipated life for herself. "I just found myself wanting to paint," she explains. "I was sixteen, seventeen, and heard about the Vancouver School of Art. I had to go there. My father said, 'You'll never earn a living from art,' but I got a scholarship my first year and managed to graduate during the Depression."

She also frequented and had shows at the original Vancouver Art Gallery where she met Max Maynard and Jack Shadbolt, and in 1940 attended a little show by a Victoria painter, Emily Carr.

"Emily was just beginning to be important at that time," asserts Bainbridge. "I saw something in her work that also consumed me—you just couldn't miss it. You'd see it yourself, the same thing, as you came toward the North Shore mountains, the green forests—the glory of Nature. Oh, she had it all right.

"I never did actually meet Emily though," says Bainbridge. "I set off one day to see her, but I met a fellow aboard the ferry. It was a slow boat, and that was that!"

My comment: I especially love Unity's sly reference to how she had a nice time with a guy on a ferry. And now let's repeat what we learned from Lynn about Unity from The Comic Art of Lynn Johnston:




Unity Bainbridge:





Katie:





Some of Lynn's earliest memories are of her mother's eldest sister, Unity Bainbridge. Unity was one of the early graduates of the Vancouver School of Art, where Lynn eventually began her training. By the mid-1950s, Unity was an established [albeit unorthodox] artist with a unique style that Lynn appreciated and admired.





Lynn:





I was an artist. There was no question about it. I was going to be an artist like my Aunt Unity. Everyone said so and I knew it was true. I had been able to draw since the age of two. I accepted it.





Katie:





Unity travelled all over British Columbia, capturing the integral character of First Nations people, their villages, their churches, and their surrounding landscape. Lynn remembers all corners and spaces of her aunt's small house filled with her art.





Lynn:





Paints, drawing tools, and other supplies covered the dining room table. Paintings, sketches, finished and unfinished work were stacked against the walls in every room. I was fascinated as much by Unity's painting and drawing equipment, as I was by the art itself.





Unity travelled with a flat wooden box, which folded out onto a small set of legs. Inside this box were her paints, brushes, and all the things she needed to sketch with. This box sat like a briefcase in her painting studio, a small, bright room on the side of her house. I knew that someday, I would have all of these things to work with too.





Katie:





Lynn eventually took particular notice that Unity carried out her own marketing. In the 1960s she had begun to create prints, illustrated books about her travels, and greeting cards, all of which were popular items in galleries and specialty shops where tourists went to find exclusive examples of Canadian West Coast art. She was an irresistible force, promoting her work at a time when being an artist was discouraged by those who believed it was no way to make a living. Lynn saw in her "Aunt Unie" an example of a full-time working artist, who was able to blend her passion for beauty and expression with her ability to produce a line of work others could readily enjoy. Bainbridge, now ninety-eight years old, states, "I loved painting, capturing the true in nature and in people. I was immensely grateful to be recognized with the Order of British Columbia in 1993." Unity Bainbridge had set the bar for Lynn.





In the Acknowledgement section, it says:





The quotation on page 26 is taken from a personal email from Unity Bainbridge to the author on November 15, 2014.



My comment: The business of Unity carrying out her own marketing runs in stark contrast to the description of Unity Bainbridge in the other articles as a woman who eschewed the commerce of art and only sold her originals to people she liked. While I know and understand that as an artist she would have been known as Unity Bainbridge, the lack of the Brewster from a family member like Lynn seems a little distant. There is no mention of Unity's daughter (a cousin about Lynn's age) or anything to give us the feeling that Lynn had done much more than have a little visit with her aunt and look at her art supplies.