As we know, Lynn didn't seem to want to simply recycle the whole "let's have Lizzie's school years be like Mike's in that her best friend is her classmate" because she wanted to talk about a subject dear to her heart: classroom politics and how to win at it. She did this by creating two people who didn't really endure because she grew sick of them: Melody and Paula. Later on, she realized that she could have her cake and eat it too by having Liz and Dawn try to navigate the dangerous shoals of peer pressure but for the next year, we're going to be dealing with the peers of Janice Madigan and Darryl Smythe. Bear with me as I discuss them and my thoughts on the matter.

Lynn's first attempt at giving Lizzie a foil was when she created meanish girl Melody Morrison. As we saw, she started out giving Lizzie the cold shoulder for no reason that immediately made sense:



that wasn't Lynn talking about how for some reason, people didn't warm quickly to a disruptive attention seeker.
We shift forward a few months to find Lizzie still intimidated by the child:




only to be given a rather predictable piece of advice about how bad it must be to be perfect:



from the Delicate Genius followed up by a sort of reminder that most of the problem seems to be that they got off on the wrong foot:





because despite how nice Melody tried to be:





Lizzie blamed her for being the problem despite not reaching out to someone Elly diagnosed as simply acting all superior to cover up being kind of terrified:





After a rapprochement I'll get into in a short while, the last time we see Melody is her being a farblondzhet idiot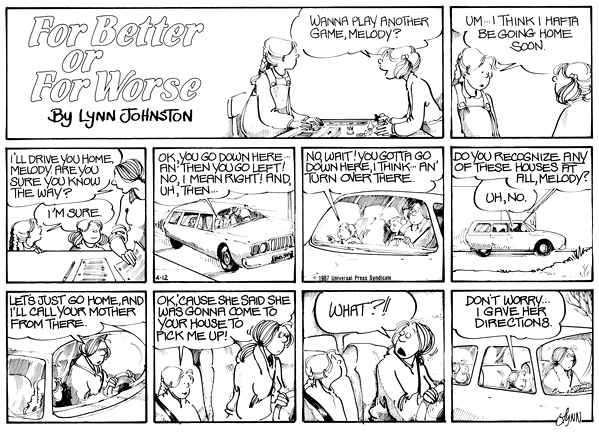 who could get lost in a phone booth.



The funny thing about Melody is that when she starts behaving pleasantly, she tags Paula in as a bratty, snotty antagonist who treats Lizzie like crap for a dumb reason. As we see here,





the reason that both girls hate Melody is because they envy her. The funny thing about Paula:





is that she immediately turns on Lizzie the instant Melody starts to turn nice





for a questionable reason so that Lynn can make a leaden point about how people never really outgrow confused thinking like this.

The next time we see her is when she touches off the "Lizzie wants earrings" arc by being a jerk:





who lords it over Elizabeth because unlike Elly and her fear that pierced ears today means drugging and sexing herself tomorrow, her mother has no real problem with her playing dress up:





This happens to be the last time we see either of them. because Lynn realized that she might have gone overboard with the need to warn people about playground politics. Lizzie's social life was out of focus for a few years until it occurred to Lynn to simply have Dawn become Liz's own personal Lawrence.