Lynn's latest blog entry is a status update on her visiting a friend of hers who runs a small town art gallery.


I recently went with a friend to Manitoulin Island — ostensibly (love that word) to visit Shannon McMullen who owns and operates the wonderful Perivale Gallery. For years, she has been inviting me to see the gallery and to stay at her home and, finally I just had to go. Spring Bay is a tiny town — the kind you pass if you blink once. There's a gas station/liquor store/grocery shop just past the turn-off, which takes you through rolling farmland towards the lake, then a right turn on Perivale Road. You can't miss the gallery.

Shannon's mom started the gallery. Her home is still next door. What strikes you as you enter the rustic gallery building is the quality and diversity of the work inside. My shopping senses tingled like mad. Shannon, sitting at her desk by the doorway had to stand up and redirect my gaze. I was that keen to browse! There were customers inside — one couple still in the throes of deciding which of two large paintings they were going to take. This is the kind of place you feel you've discovered — and can't wait to tell your friends. The art was diverse and excellent. Well-crafted pottery, unique jewelry, sculpture and a variety of paintings, many of the wild Manitoulin landscapes. Some of the abstract work reminded me of dark, eastern fabric patterns, so I realize that my mind is focused on fabrics lately. Shannon had been asking me if I would care to put some of my work in her gallery and after seeing what she carried, I was honoured! I had taken a couple of small pieces to show her, but my time is so limited, now, that it was hard to agree to doing something soon. Still, the incentive is there. Perivale is a gallery where only one of a kind, original art is acceptable and to have been asked to join her cadre of artists was a compliment indeed.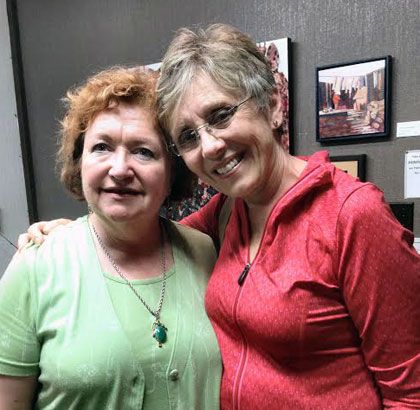 After a fine visit, my friend, John, and I continued on to explore the island. We had just a short time, but everywhere you go, there is splendid scenery, waterscapes and rock formations to make an artist want to stop right there and capture it. In Shegawindah, we looked up some of my family members in the museum records, explored the basket museum in M'Cheeging and followed the winding roads to windswept outlooks and vistas reminiscent of the Group of Seven. It was a wonderful escape to a still undeveloped part of Canada where First Nations history blends with the fur traders and remnants of early lumber towns. If you live anywhere near Manitoulin Island — or are looking for a vacation to remember, go there. It's a national treasure.

To check out the Perivale Gallery, go to: PerivaleGallery.com or call Shannon at 705 377 4847.


Notes:
- Once again, Lynn fails to realize that the way she constructs sentences leads to mixed messages. This is because she doesn't understand that writing something like "My friend, John, and I" is how you write it if you've only the one friend.

- I would have liked to seen some of the artwork instead of another snapshot of Lynn gurning at us.