Well, it didn't take long for Lynn to churn out an unfocused and blinkered look at the Comics Arts Festival. I'll leave you to point out some of the stupider things she says.



I have just come back from the Toronto Comic Arts Festival. I sat on a few panels, gave a chalk-talk, took in some lectures, and toured the "Floor." It was another amazing foray into the comic art scene — and I learned a lot about today's industry from librarians, teachers, booksellers and fans.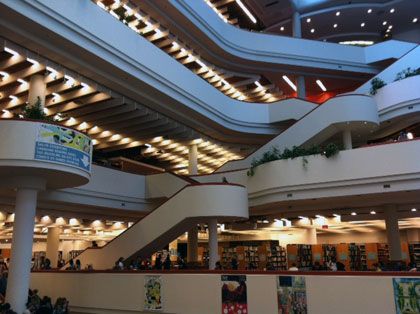 The beautiful Toronto Reference Library


Lynn giving her "chalk talk". (With thanks to friend-of-the-studio Mike Robbyns for the photo).

Many of the students in attendance were also cartoonists — working from home, trying out their material on the web. Some were in animation school, some were writing and drawing graphic novels — all were hoping to make a living doing what they live for and love. We talked about websites and crowdfunding, cybertheft and trolls…but the thing that remains the same is: time and effort.

In order to share your fantasies in comic art form, you need the time to do it consistently and well, and the incentive to put everything you've got into your craft in order to produce good work every day. How is that possible if you have to make a living at the same time? With newspaper syndication such a question mark these days, what is the objective, now? If syndicates are accepting fewer and fewer new comics features every year, where do you send your folio? I am as in the dark as everyone else is.

Some good news: comic book stores have begun to carry more comic strip collections. The giant book conglomerates may have hoovered up all the available titles, but they have dropped the ball when it comes to comic strip art anthologies (like mine). Syndicated cartoons in book form are best found now in the independent comic book stores or online from book sources — and the artists, personally.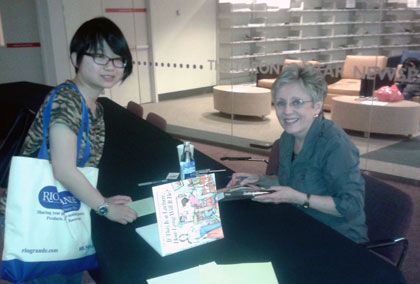 Lynn signing a book for a Festival attendee.

The comic art stores are now the best "walk-in" market for good cartoon books! These folks, however, have to know what titles are available and how to get and promote them. Do publishers and distributors take them seriously? From the comic art store owners' perspectives…it doesn't seem so. Maybe cartoonists will have to market their own work from now on. Well, I'm up for it!

Librarians from all over Canada and the States were in attendance, and what I heard from them was amazing. Comic art books are HUGE in libraries. Reina Telegmeier's books: "Smile," for example (a must read if you're a 9 year old girl) and "Drama" (simply a must read) cannot be kept available. As soon as these graphic novels are checked out of the library, they are taken out again. One librarian said she had 10 copies of each in the library and it was not enough! With the emphasis on more visuals and less text, the comic art book's popularity is soaring — and yet, big book chain sales are down. Go figure.


The TCAF was extremely well attended!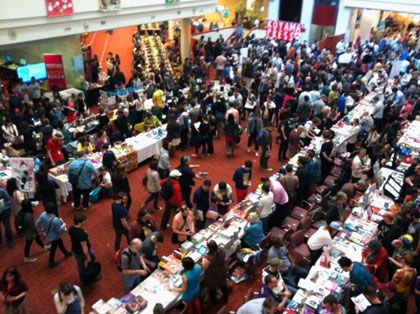 I asked teachers what their interest was in coming to the Toronto Comic Art Festival. Like the librarians, they too said that this kind of book was number one on student reading lists. Teachers often used the story lines to open dialogue about morals and tolerance — and in the case of Kate Beaton…History! All agreed that the hard copy book was not going to disappear; that once a good book was consumed online, the real deal was worth having.

When I asked a room full of young comics fans if they bought the books they read online, they all raised their hands. This was great news for me, as my publisher tells me that my books no longer sell well enough to continue with the treasuries we started. No point in going to all the work of writing text and digging through family photos if the only folks who will read these books are my grandkids! Right now, we have finished 4 (well, three, but the 3rd one was divided in half and made into 2), and we are wondering if we should produce any more. It doesn't seem likely.

Anyway, I wanted to tell you about, and show you, a couple of scenes from a weekend I enjoyed, lectured at, and learned from. I always feel at home in a comic art atmosphere. Everyone is there to experience everyone else's dreams and fantasies. You can't get much closer to "PEEPS" than that!

Lynn




Lynn loved the lady's leggings. (Warning: she might not if she realized who she was.)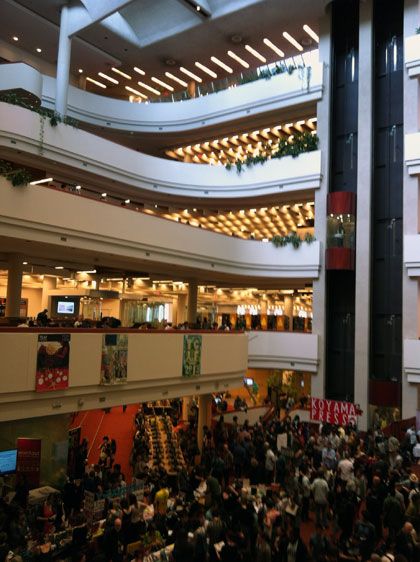 Preliminary notes:

1) Lynn loves scare quotes around slang.
2) She blames the devil e-readers for the collapse of box-store bookstores AND the lackluster sales of the treasuries her insistence on creative control killed.
3) The attendee in the leggings is someone everyone should know: Kelly "Coelasquid" Turnbull, author of "Manly Guys Doing Manly Things." This is what I meant about Lynn maybe not liking her competition/evolutionary successor that much were she to know more about her.
4) Lynn continues to not understand the world in which she lives. Five bucks says that she thinks crowd-funding means that a crowd is supposed to show up and finance whatever idea her need to exercise creative control will die due to her sheer incapacity to understand anything.