For those of you who keep track of this sort of thing, the interesting thing is that Lynn's latest press release is not about the Rejected Strips section. Instead, we get this odd little thing about the Farley Foundation bike race.


The Farley Foundation's Ride for Farley is an annual event during which veterinarians and veterinary health professionals cycle to raise funds and awareness for the Foundation. Veterinarians raise funds through their clinics and rely on the generous donations from their clients and the public.

To date, the Ride for Farley has raised more than $250,000 for people and pets in need! We hope that you will consider joining us in 2013 for our fifth year in Southern Ontario.

The 2013 Ride for Farley, generously sponsored by Summit Veterinary Pharmacy, Inc., will be held on Saturday, September 14 in the Milton area. Riders will have the choice of cycling 50 km, 100 km or 160 km in and around the Milton/Flamborough/Guelph area.

This year's title sponsor, Summit, is featured on the attractive jerseys given to the participants: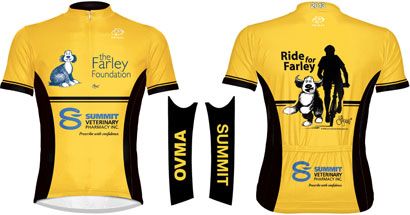 If you're interested in taking part, you can download the information package and registration forms here.